If you have the chance, go see the documentary 'Marley'. It gives a good overview of he life and the career of one of the most influential musicians of the last 40 years.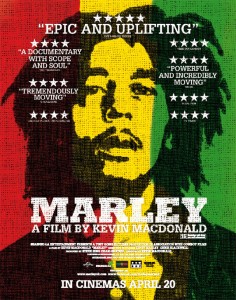 The documentary is definitely made by a fan, so most of the times the movie isn't that objective, but it gives you enough information to learn more about the person Bob Marley. On the one hand the sheer adoration nowadays, on the other hand the discrimination and racism (Bob Marley father was 'white') in his youth. The poverty when he was young, the conservatism of the Rastafarian movement (women were not allowed to wear trousers), his political involvement in the 'civil war' in Jamaica in the 70's (was it political interest or was he just naive?), his tragic end etc. etc.
Go see it and most of it enjoy the fantastic music!