On May 16th 2012, Chuck Brown the godfather of go-go died at 75 of pneumonia.
Chuck Brown, not very known to the public, especially in Europe, is regarded the godfather of go-go. Go-go (the music goes and goes because the underlying rhythm never stops) being a sub genre of funk in which endless Caribbean rhythms and jazz are mixed with a good portion of funk. You have to be an absolute non-musical idiot if go-go doesn't move your hips. It's the ultimate party music and therefore it's sad most people don't know his music.
I was introduced to Go-Go by a review of a Chuck Brown live album somewhere in 1987. It still took me about a year to get hold of this album (I was able to rent it from the Rotterdam Discotheque which has one of the largest record collections in the world) and it changed my world. Just listen to 'Run Joe' or whatever song on this album and gone are the rainy days.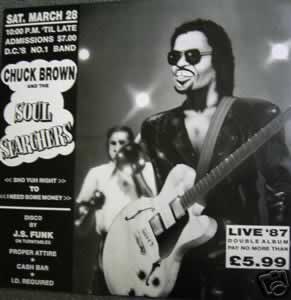 I was never able to see Chuck live. I remember he played North Sea Jazz once but sadly I missed it.
Get his stuff at www.windmeupchuck.com