David Gilmour's Black Strat fetches almost $4 Mio… and I wanna build one!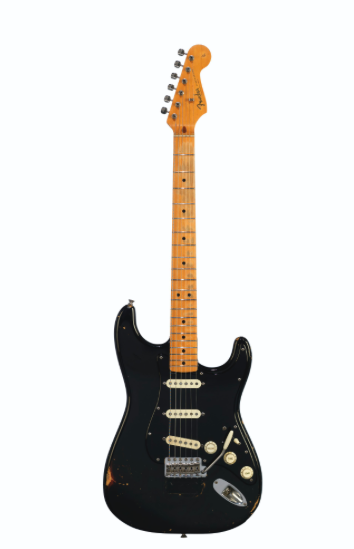 William, my trainer at the gym, is a huge Pink Floyd/Roger Waters fan. Often on Sundays when we train alone, he puts on some Floyd album. So after training for over 3 years with him, I know the complete Floyd repertoire by heart.
Somewhere in sprong 2019 we came to talk about the auction of a collection of David Gilmour's guitars including his black Strat. William couldn't believe that someone would put down $150K for a guitar and he completely went mad when I told him that this guitar would easily fetch between 1 and 1.5 million dollar. Of course, I was wrong. Someone bought the guitar for almost $4 Million (excluding the auction fee which would also be around 10% of the purchase amount).
During training, I told him about the signature guitar market. William doesn't know that much about guitars but he became interested when I told him that you could buy a Gilmour signature Stratocaster for about $4500 in a regular (factory new) version or even in a road-worn "relic" version. But on the other hand, Thomas.de offers a similar guitar for less than $200. And on youtube I found a video of a guy painstakingly making an über exact copy of this guitar. The video has disappeared from Youtube but recently it popped up again.
William checked this guy's website trying to find out what such a relic would cost, but couldn't find anything.
"I can make you such an exact replica" I responded boldly and from then on I have been doing some research.
Best way to start is the book that Gilmour's guitar tech Phil Taylor wrote in 2007 about this guitar called "The Black Strat". But this book is rare, out-of-print and second hand copies do around $400-$750 on eBay.
More luck I had on the Christie's website. Super detailed photo's are available and they give you a good idea what has been done on this guitar over the years. I won't go into details, there are many sites that give the full history. And I finally managed to find a .pdf of the "The Black Strat" book (in Russian, but Google translate is my friend).
My idea was to make a replica with the real parts (that's going to be expensive) and on the other hand make a replica with cheaper parts.
Let's start with the new. The neck has been replaced multiple times but the neck installed now (the 6th neck) is – according to the book- a neck from a 1983 strat. But looking on the pictures from Sotheby and the book, I see differences in the logo. The Fender logo on the Sotheby pictures is clearly put on afterwards (look like it's done by a 5-year old kid). The www.gilmourish.com website has some interesting headstock pictures but these pics are from before 2007, the year the book has been published (when was the book – written, how old are the photo's …). Anyway, looking at the specs of the re-issue we can roughly determine the specs of neck:
Neck material: maple
Fingerboard: maple
Fingerboard radius: 7.25"
Neck shape: Thin-Shouldered "C"
Headstock: Stratocaster regular (not the big 70's headstock)
Logo: Fender "Spaghetti" logo.
Frets: 21 – "vintage". Probably this means they are Dunlop 6230.
Tuners: Gotoh vintage. I don't see locking tuners or staggered heights tuners so just the regular tuners. Hardly any wear on the knobs, only some dirt/rust on the back of the tuners.
Nut: bone. The re-issue has "synthetic bone" nut but the Sotheby photos show real bone in my opinion.
Postion markers: black-small spacing
Strings: Fender NPS .010-.046 on the re-issue. From the book: Ernie Ball 10, 12, 16, 28, 38, 48 gauge. W'll stick to the Ernie Ball's.
Finishing: nitro glossy
The neck has the vintage style truss-rod which you have to adjust at the heel. This means you always have to remove the neck from the body in order to do truss-rod adjustments. I don't like that because it takes so much more time for adjusting a neck. The neck has the walnut skunk-stripe for filling the truss-rod route on the back like almost all fender necks have – whether it is needed or not.
Something that occurred to me was the complete absence of wear on the back of the neck. The fingerboard has a lot wear – on almost all positions the lacquer is gone – but the back of the neck is perfect. How did that happen?
Another thing, Gilmour is famous for his fantastic string bends, but with a 7.25" fingerboard radius and small (dunlop 6230) frets…. Is that going to work? OK, he is not a shredder so he might use a high action. I can't find any details so I stick with a fingerboard radius of 7.25" and Dunlop 6230 frets.
The neck is screwed with four bolts to the body with a regular metal neck plate (no plastic in between body and neck plate) which has serial number "38979". Nicely worn as well.
Item
Expensive version
Costs
Cheap version
Costs
Neck
Warmoth
Vintage; quarter sawn
standard thin profile
$200
gitarre-bestellen.de strat kit
$105
Tuners
Gotoh Vintage-style Oval Knob
6-In-Line Tuners (Nickel)
$45
J-55 6links Vintage
Kluson-Style oval
$22,50
Logo
Spaghetti
$10
Spaghetti
$10
Nut
Bone
$5
Bone
$5
Neckplate
Metal
$5
Metal
$5
Finish
Nitro
$25
Nitro
$25
String
retainer
Standard
$5
Standard
$5
The body is made of alder – 1968/1969. Originally it had a 3 three-tone sunburst but it was sprayed black later. I guess both the sunburst and later the black paint had a glossy clear coat.
The pick-ups is an issue. The following pick-ups are in the re-issue:
Neck: Custom Shop Fat 50
Middle: Custom Shop 69
Bridge: Seymour Duncan SSL5
The neck and middle pick-up can only be bought in sets, so I have to find alternative pick-ups.
The pick guard is one-ply black with rounded edges, something I can easily make myself.
Item
Expensive version
Costs
Cheap version
Costs
Body
Warnoth – Alder
$211
See guitar kit
$0
Pickguard
11 screw black
rounded edges
$20
11 screw black
rounded edges
$20
Finish
Yellow, red, brown,
black, clear glossy
$100
Yellow, red, brown,
black, clear glossy
$100
Tremolo
Fender standard 57/62
steel saddles
$176
Wilkinson vintage tremolo
$40
Pick-ups
Neck: Custom Shop Fat 50
Middle: Custom Shop 69
Bridge: Seymour Duncan SSL5
Fenders not
sold
separately


$200
Wilkinson Alnico IV
pick-up set.
$90
We will need some other stuff, strap holders, vintage looking knobs, 5-way switch, jack-input, string tree holder, strings, some screws plus new frets for the cheap version (I will have to reshape the fingerboard to a different radius and put new frets in). Most stuff I have lying around so that won't cost me anything.
This makes the expensive version about $1000 (excluding shipping costs and taxes) and the cheap one $430 with lower shipping costs and possibly no taxes. A good guess would be $1500 and $500 altogether.

Now it's waiting till my other projects are finished….I'll keep you updated!