Every Prince fan knows that Prince's favorite guitar is a telecaster. From the beginning of his career to his latest concerts, you can always see him play this flamed maple tele with maple neck and matching leopard print strap.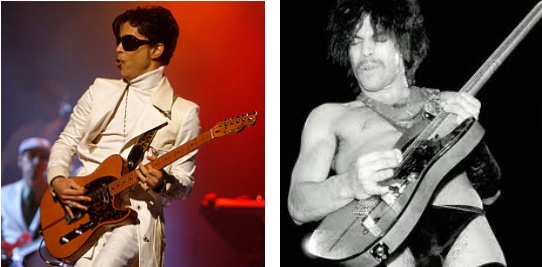 But what brand is this telecaster? It's not a Fender, but what is it and is it for sale? I got really curious when I saw Prince throw his tele during a concert (I was only a few meters away) into the crowd after playing 'Purple rain' (he did the same at the end of the concert). On my way back I was wondering, if you could catch that guitar, how much would it be worth? Ebay is not flooded with Prince guitars, so what happened that night? And if Prince would really throw an instrument into the crowd, would he throw a cheap knock-off (Richie Blackmore would trash a cheap stratocaster, not one of his beloved guitars)? But you can't play the purple rain solo on a multiplex telecaster in front of 20 000 fans. So what's the deal?
First about the throwing of the guitar, he throws it to a roadie who returns it back-stage. So nobody is hurt fighting about that guitar (I've seen people almost kill each other to get hold of a Satriani plectrum). But now the guitar!
In the 70's, Prince (not being famous yet) bought a Hohner telecaster. There are rumors that he bought this guitar since the pickguard matched perfectly with leopard strap he already had. But I guess there were more reasons:
the looks are fantastic, beautiful book matched flamed maple front and back
building quality is excellent
the guitar body is made from maple (rarely used by builders) which gives it a very distinct, bright, funky (and that's important!) sound
Something about the brand Hohner. Originally a German brand specialized in harmonica's, also moved into the guitar business buying guitars from Japanese factories in the 70's. During the NAMM show in 1972, a telecaster was shown by a brand called H.S. Anderson. The brand name is just a name made up (although there is an American wood sculpturer known by this name) but the guitar excelled in building quality and playability. The guitars under this brand came from the 'Morris' factory which built for a lot of brands. They still exist building high quality acoustic instrument.
Anyway, after he H.S. Anderson telecaster (named Madcat) became a success, Hohner decided to buy this model and put their logo on it. Due to lawsuit cases (the headstock of the Madcat was an exact copy of the Fender headstock), the guitar was taken out of production after a while
Luckily, one of these rare Hohner Madcats ended up in a music shop in Minneapolis, and the rest is history. Funny is that I can't find any pictures of this Hohner version of the guitar, other than guitars played by Prince. I guess the Hohner logo versions of the Madcat are very rare
After Prince became a superstar in the 80's, Hohner decided to bring this guitar back into production, but now with a different headstock to avoid legal issues.
In fact they did it twice (models were called 'The Prinz' and later 'TE Prinz')', but these guitars didn't reach the quality standards of the H.S. Anderson models.
In the mean time, the Bill Lawrence factory made a similar model, also with a slightly changed headstock. These guitars should be of better quality the the Hohner re-issues.
And at last, Hohner did another re-re-issue of their Prince telecaster. Two models called 'The Artist' and 'The Artist Elite', of which 'The Elite' model is handbuilt by Czech luthier Hans Waldermeir.
Just recently, I saw a posting that the original brand H.S. Anderson is in business again, issuing (you can already guess) an
'as close as possible
' re-issue.
Prince owns a couple of original Hohners (at least two) but the guitars he plays now are built by luthiers. It's a known fact that he ordered (already years ago) three exact replica's from luthier Roger Sadowsky. Exact copies, even the Hohner logo's are correct. And in the meantime there are two re-issues, a vintage re-issue and a 45th anniversary Mad Cat one. Prices in Holland are a little bit under 3000 euros. Via-via I know someone who bought one and that person is very pleased with the instrument, but I also would paying that much money for a guitar. For that amount I would consider having a luthier built one. On the telecaster forum I saw a beautiful example by 'Oigun' (aka Eugen Wulff from Gun Guitars in Haarlem). What a
beauty
.
But since this item is in menu 'My Projects', I want to make a replica of this guitar myself with a limited budget. The Madcat comes closest so that guitar should be the reference, only the logo needs to be swapped by a Hohner logo (more on that later).
Lucklily there is a beautiful website dedicated to the H.S. Anderson Madcat. Please have a look
here
.
Here we go:
Maple body. Later re-issues, even the expensive ones, use (swamp) ash.
Flamed maple top and back
Walnut central binding over the body (front and back)
Black binding from and back (there are models with 'leopard' binding, but Prince's guitars have black binding as far as I could check)
Maple neck
Blonde maple finish
Fender noiseless (stratocaster) pick-ups. There have been rumors about Kinmann pick-ups but Prince guitar tech has confirmed he uses Fenders now.
Schaller mini tuners
21 frets (size unknown)
Fretboard radius is unknown (normally I prefer 12″ but for funky chords 10″ is also very comfortable). According to Prince guitar tech Takumi the fretboard is really flat. So I guess you go in the direction of 15-20″ radius.
Pick guard: 'Hohner' style with kind of 'tortoise'/ 'leopard' pattern (impossible to get these). The website about the Madcat describes how you can make one yourself.
Now the search for a 'donor' instrument could start. I wanted a tele model with maple neck, but it had to be cheap. I ended up at ML-factory. They sell tele kits but also separate bodies and necks. The body I like to go for is a telecaster body with black binding for 49 euros. The black binding must probably be removed in order to add a flamed maple top. That can be easily done with heat (hairdryer). For the neck I would consider an all maple neck with skunk stripe. It's pricey, around 100 euros, but it is exactly what I need.
For the maple top I want to use flamed maple veneer. You can get really thin ones (0.6 mm) all over ebay (check ebay Germany – seller 'elder_kontor' ). I can glue them on the front and back and do a binding routing for the black side bindings.
The walnut binding most not be forgotten. It's possible to buy Glitz Washi tape with woodgrain. That would be easiest to work with. Stick it on the body and spraying over it will give a good result. But I could also use real walnut veneer that must have the same thickness as the maple veneer. Or print a wood grain on decal paper and stick that on the body?
For the hardware:
Gotoh GTC102 hardtail bridge
Gotoh SG360 machine heads (or Schaller mini's since the chrome Gotohs are hard to find)
Leopard pickguards (don't forget the output plate at the jack plug, don't use metal here)
String retainers
Bill Lawrence USA S1 and S3 pick ups.
Telecaster metal control plate
Chromed knurled brass knobs
The Leopard pickguard will give some issues. This material came originally from Italy but is almost impossible to find. The madcat tribute page has a way of making one but the tonefactory.nl webshop sells 'wildcat yellow' pickguard material that comes very close to the original (close enough for me).