Prince @ Paradiso Amsterdam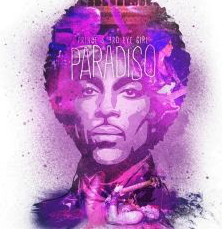 Firiday 9th of August, 17:30, my friend Peter calls completely out of the blue. 'Ed, you know who's coming', euhhhh no clue Peter… 'PRINCE!! Already this Sunday, two shows, one at 19:30 and one at 0:00, I wanna see both or at least one, ticket sales starts in half an hour, get as much tickets as you can….'
So I installed myself behind my desktop, got myself a login and password for the site and waited. At around 17:45 I got myself a place in the queue and about 20 minutes later I was able to order two tickets for the 19:30 show. later I found out that all 3000 tickets were sold out in 7 minutes. Ticket price was 100 euros, lot of comments in the dutch press but I can tell you it was worth every cent.
My friend Peter managed to get tickets for the same show so Sunday we were queuing with our girlfriends for over two hours. Of course, Prince is a superstar so he can let his fans wait for as long as he likes. In the meantime, the queue was from Paradiso to the Vondelpark and people started to get nervous.
Around 19:00, the doors finally opened and we managed to get a seat at the balcony at the right side. The place wasn't too overcrowded. Average age of the people well over 40 so we felt young 😉
Important to mention, it was well explained that it was absolutely forbidden to take pictures during the show. And indeed, I saw at least 5 people taken from the crowd by security.
Anyway, around 20:10, Hannah the drummer came on stage to ask again not to take pictures but to enjoy the show as it was. It was an honest request to the audience and I must admit it was a relieve not to see hundreds of mobile phones light up during the show. Hannah took place behind the drumkit, the rest of the band (all girls) came on stage and started to play. And then finally, the master himself with a nice afro joined the band (first playing trombone, couldn't see it correctly from our point of view) and ripping up a slow heavy rock version of 'Let's go crazy'. It was a good show although not the best Prince show I have ever seen (this was my 5th Prince concert by the way) . I loved the fact seeing Prince in such a small venue but to be honest, I don't like Prince playing rock that much. His latest songs with 3rdeyegirl miss the maturity of lets' say Led Zeppelin (the song 'Plectrum Electrum' is largely influenced by Led Zeppelin's 'The Ocean' but not half as good).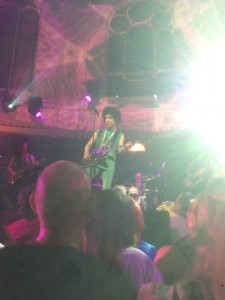 I liked the band especially the drummer (she was hitting as hard and as precise as John Bonham in his best days). The guitar player had some issues with the pedal board but she laid a good groove and did some nice soloing sometimes together with Prince. Cool that Prince offers such young artists an opportunity to excel.
Around 22:00 the show was over and it was time to have a cold beer at Leidseplein. Rumors are that Prince nowadays lives in Paris so hopefully he will do more of these small venue shows in Europe.